Alexander Yard Signs
Are you looking for a cheap but effective way to spread the word about your business opening, community event, or political campaign? RiverCity Print & Imaging can provide you with Alexander yard signs customized to your specific needs!
Made of coroplast or corrugated plastic, our yard signs are proven to be durable under inclement weather. You can leave them outdoors for an extended period, maximizing the result of your marketing campaign. Even better, we have in-house graphic designers who can make your yard sign as attractive as possible.
RiverCity Print & Imaging is a full-service printing company that is an expert in producing high-quality signage. With industrial-grade printing machines and durable substrates, we guarantee a set of signage that gives you the most bang for your buck. And if you are looking for the best signage that will reach a large audience at a low cost, our yard signs are hard to beat.
Call RiverCity Print & Imaging today at 501-502-2323 for your Free Consultation with a Alexander Yard Sign expert!
Promotional Signs for Business
You've probably seen countless yard signs within your city for as long as you could remember. Different types of businesses continue to use them for two main reasons: affordability and effectiveness. Whether you own a small local business or a non-profit organization, yard signs are always effective in spreading information and gaining more customers.
Some of the common marketing uses of yard signs include:
1. Letting the public know about upcoming community events like festivals, marathons, fairs, educational programs, etc.
2. Promoting new products and services
3. Advertising special or seasonal offers
4. Announcing business openings
5. Increasing visibility and guiding people towards your building and or event's venue
Regardless of the industry that you're in, you can always benefit from our premium Alexander yard signs. RiverCity Print & Imaging ensures that we can provide you with custom signage designed to attract your specific target market and effectively highlight your marketing message.
From keeping your design uncluttered yet high-impact to helping you install them in strategic, high-traffic places, our team will provide you with a complete printing service that will improve your business's bottom line.

Custom Real Estate Signage
One of the biggest users of yard signs is the real estate industry.
Agents use them to spread the word about an open house event or the selling of homes and other real estate properties.
RiverCity Print & Imaging can provide you with custom Alexander yard signs for your real estate marketing needs.
We can design them with your name or logo and make sure to use your brand colors. If you want, we can also provide you with signage stands and other installation accessories.
And since we are an all-around printing company, we can also provide you with all your other marketing needs. Business cards? Brochures? We got you covered!
Political & Campaign Signs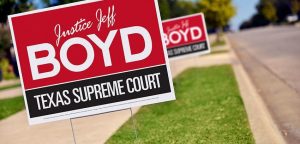 Election season is probably when yard signs are most in demand. You can easily utilize them to show support for your favored candidate. Install them on your lawn, and you can not only express support but somehow influence other's opinions as well.
Aside from private homes, yard signs are also utilized during rallies and other political campaign events. Since they significantly cost less than other signage, they provide a more convenient way to spread awareness about your favorite candidate and their various advocacies.
Free Yard Sign Consultation
If you want to get the best Alexander, AR yard signs that fit within your budget, there's no better printing company to work with than RiverCity Print & Imaging. We are not only properly equipped, but we are also well-trained to produce high-quality signage that attracts people and encourages action in the most efficient way possible.
Talk to our yard sign experts today, and we can start working on the design of your custom signage right away. Whether you want a full-color front and back or vertical orientation, we can provide you with the yard sign that best suits your design preferences.
Call RiverCity Print & Imaging today at 501-502-2323 for your Free Consultation with a Alexander Yard Sign expert!