Mabelvale Coroplast Signs
Do you want to spread information to a large targeted audience without spending too much? RiverCity Print & Imaging can provide you with Mabelvale coroplast signs and help bring more attention to your business, event, or political campaign.
Coroplast signs are yard signs or bandit signs made from corrugated plastic—hence the name. They have great durability, which makes them ideal for long-term outdoor usage, even under inclement weather. More importantly, they are affordable and lightweight, allowing you to print them in bulk and use them across different sites.
RiverCity Print & Imaging is a full-service printing company that can provide you with all types of printables and commercial signage. Even better, we have our in-house graphic designers who will ensure that every product we print is attractive and effective as communication tools.
From cutting-edge printing machines to high-grade substrates and other accessories, we have everything we need to give you the best Mabelvale coroplast signs at a quick turnaround!
Call RiverCity Print & Imaging today at 501-502-2323 for your Free Consultation with a Mabelvale Coroplast Sign expert!
Promotional Signs for Business
Together with our graphic designers and printing experts, you can have high-impact coroplast signs that will effectively promote your business. We can help you design your signage to ensure that your message is clear and that people will be able to get the important information (e.g., time of the event, store location, contact details, etc.). More importantly, we will ensure that you'll get the attention of your target market!
RiverCity Print & Imaging can always customize your coroplast signs. Whether you run a local business or a non-profit organization, we can design them to fit your specific industry and promotional goal.
Some of the best uses for yard signs include:
1. Spreading the word about upcoming public events like marathons, festivals, fairs, etc.
2. Promoting your newly released product or additional service
3. Advertising seasonal events or special offers
4. Announcing grand openings or other business events
5. Directing people to your building and increasing its visibility
Don't hesitate to talk to us about your preferred style and elements you want to include. Our designers can always find a way to incorporate your specifications into the best layout that will make your coroplast signs extremely eye-catching!
Custom Real Estate Signage
Aside from brick-and-mortar businesses, the real estate industry is arguably the biggest user of coroplast signs.
These signs are proven valuable in advertising properties for sale and open house events. They are not only weatherproof and fade-resistant but are also highly customizable to fit the agent's brand.
RiverCity Print & Imaging can tailor your coroplast signs to have your name, contact details, and other branding elements like your logo and brand colors. You can also choose to have your signs in either vertical or horizontal orientation.
And if you want to maximize its aesthetical appeal, you can choose to have both front and back sides in full-color graphics.
Political & Campaign Signs
Election season gives way to our most busy schedule when it comes to printing coroplast signs.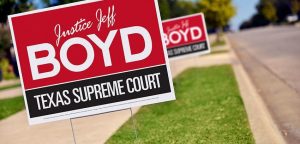 We can design and print them in bulk to help you support your favorite candidates. Whether you'll use them on your lawn or for a political campaign, our coroplast signs can effectively get your political opinion across at a reasonable price.
Since coroplast signs are lightweight, you can also easily transport them or hand them out. Putting them up in various places will also prove to be so easy. We can even provide you with installation materials like sign holders.
Free Coroplast Sign Consultation
For customizable signage that's also affordable and long-lasting, our Mabelvale coroplast signs are definitely among the top choices. You can use them for an extended period even under bad weather without worrying about the prints, fading.
With our Mabelvale, AR sign company, you can ensure that you'll get coroplast signs that will successfully get your promotional message across. We work in an efficient yet accurate way that will have us deliver your signage as soon as possible. Even better, we can tailor the whole printing project to your budget.
Call RiverCity Print & Imaging today at 501-502-2323 for your Free Consultation with a Mabelvale Coroplast Sign expert!